2011–2016 Tokyo/Osaka
Remote simultaneous interpretation
Touchscreens
Video conference
AstraZeneca K.K.
This pharmaceutical manufacturer brought in a DIS conferencing system for their boardroom.
Conferencing systems from DIS have been part of Shure's line of audio products since 2011. We installed a DIS system in the boardroom of the pharmaceutical manufacturer AstraZeneca. DIS (Danish Interpretation Systems) has been developing conferencing systems in Denmark for over 60 years. Backed by superior engineering and sophisticated design sensibilities, DIS has established itself as a fixture in the conferencing systems market.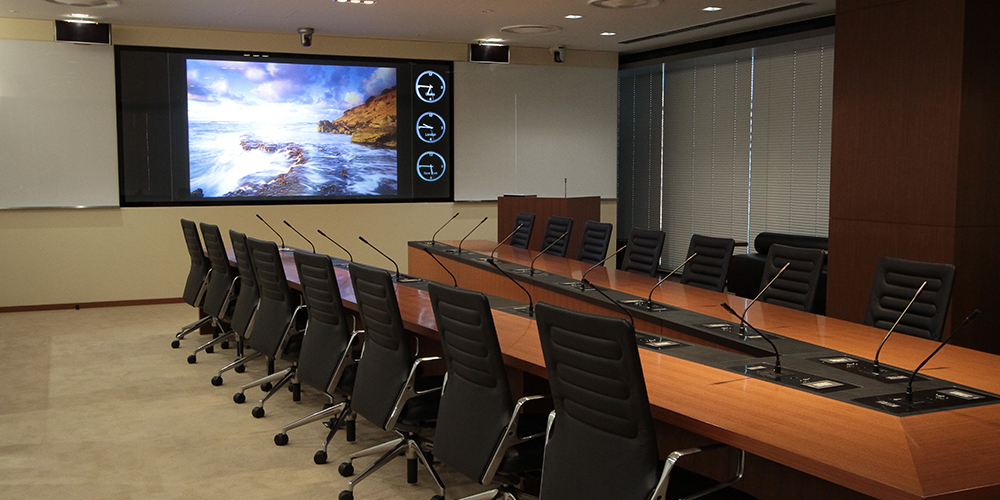 Photo (1): The boardroom of the main Osaka office of the pharmaceutical manufacturer AstraZeneca.
― What led AstraZeneca to start using a DIS conferencing system?

AstraZeneca's operations extend to over 100 countries around the world. Within Japan, the company has more than 70 offices. They have been using video conferencing systems and voice communication equipment for some time, in order to facilitate meetings between their headquarters in the U.K. and all of the other countries where they operate, and to reduce travel costs. When they renovated the boardroom at their main Osaka office (Photo (2)) in November 2011, they refreshed it with a design based on the color black, which is connected to our branding. That meant that the sliver desktop conferencing unit that AstraZeneca had been using up to then would no longer fit. We suggested a DIS conferencing system, of which the base color is black.

― Benefits of using a DIS conferencing system

In addition to the visual appeal of their design, DIS conferencing systems excel in terms of build quality and functionality. Thanks to the cardioid microphone head, background voices are no longer being picked up. The system has also led to less feedback from the sound from the speakers cutting in. In terms of durability, as well, this system is more robust than the product from the manufacturer AstraZeneca was using before. As a result, it appears that they are experiencing fewer interruptions. In addition to this outstanding performance, another benefit of DIS is that their prices are lower than those of other companies. At their main Osaka office, since they started using it in 2014, they have used it for things such as multi-day conferences. To this day, they have not had any major problems, which shows how stable DIS conferencing systems are.

― Benefits of the made-to-order approach

The conferencing system is connected to a touchscreen (made by AMX) installed on the lectern, which allows for easy operation, including powering the system on and off, switching what is displayed on the screen, and adjusting the camera. This enables comprehensive control of the entire conferencing system. AstraZeneca also frequently requires simultaneous interpretation. For that reason, they have interpreting booths in several of their conference rooms, in locations including their main Osaka office and their Tokyo offices and branches. When, for example, the company's president and executives have come from the U.K. to Japan, the company is able to have the English speakers' words interpreted and streamed to its other offices and other facilities all over the country. Additionally, as a course of action available in emergency situations such as natural disasters, the system can be launched in emergency mode in a conference room in Osaka or Tokyo. When the video conferencing system is started up in one city, the corresponding system also starts up automatically in the other city. The system is designed to allow meetings to begin instantly. In this way, we offer ideas for systems that are tailored to our clients' needs. ●AstraZeneca K.K. Adress:Grand Front Osaka Ofuka-cho Kita-ku Osaka URL:https://www.astrazeneca.co.jp/
Photo (2): Lectern-mounted touchscreen (made by AMX)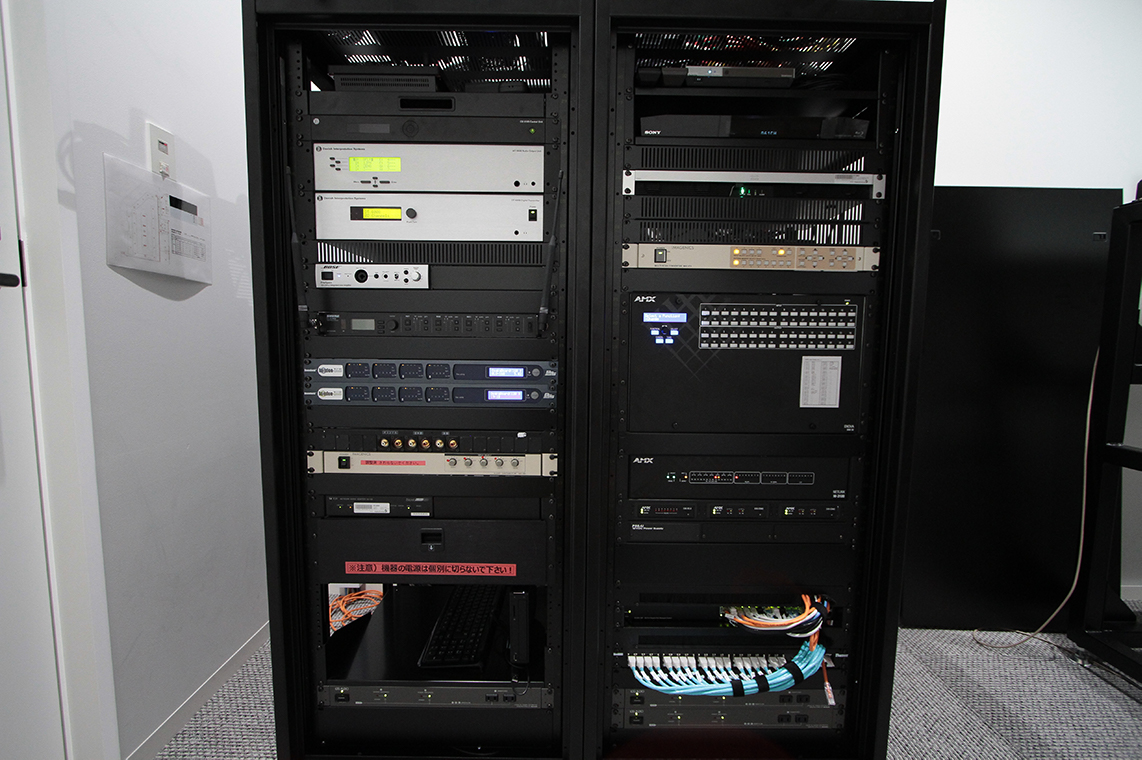 Photo (3):Machin room in the boardroom contains AMX matrix switchers and Shure ULX-D system receivers.